Significant construction milestones bring the facility to 75% completion.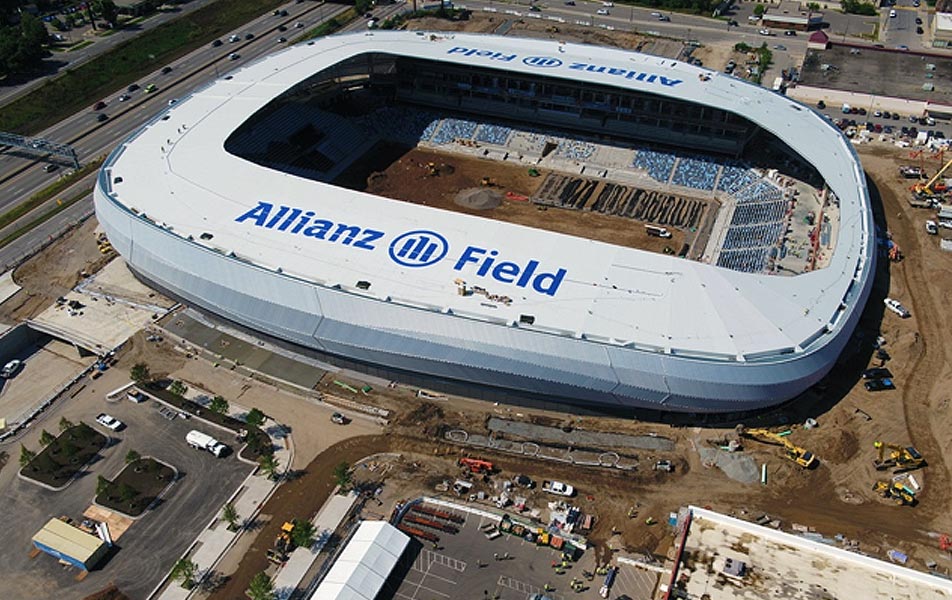 Allianz Field, our North American addition to the Allianz Family of Stadiums, is now 75% complete and on track to kick off Minnesota United's 2019 season. Significant milestones have been accomplished and our state-of-the-art namesake is taking shape here in Minnesota.
Most notably, the LED lights on the stadium's PTFE exterior have begun to glow – a signature feature of Allianz Field. The PTFE fabric sheathing, which has never before been used in a stadium, is installed. In addition to its visual appeal, this "skin" will protect fans from Minnesota's weather elements and also trap noise decibels inside the stadium.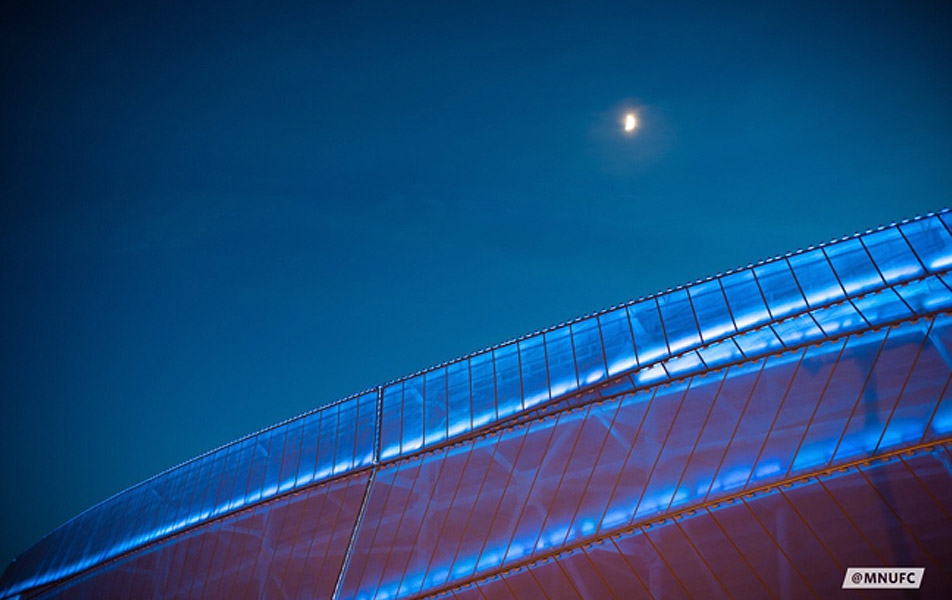 Bringing more than just our name to Allianz Field, a commemorative beam signed by Allianz employees and other fans was prominently placed within the stadium to honor those who have been supporters from the beginning.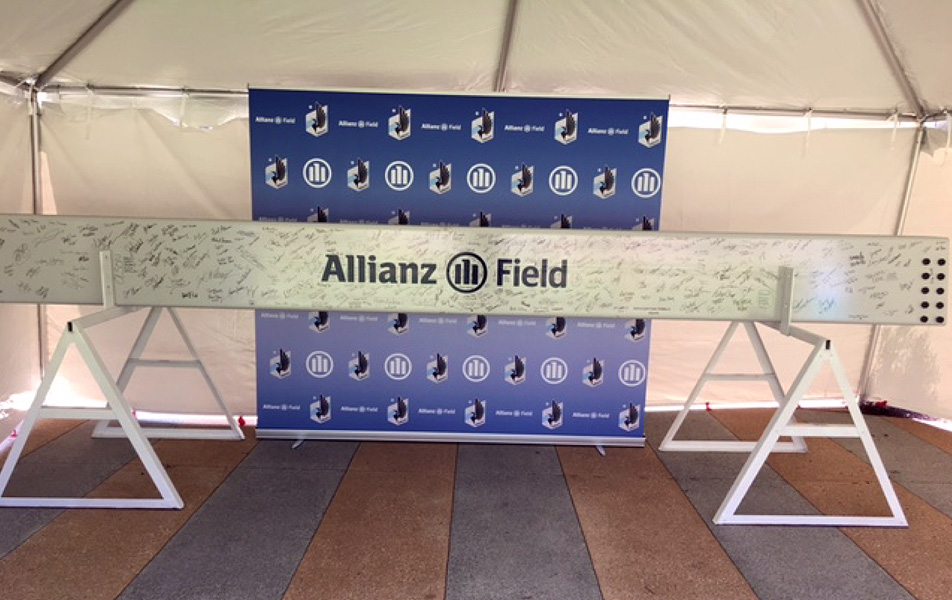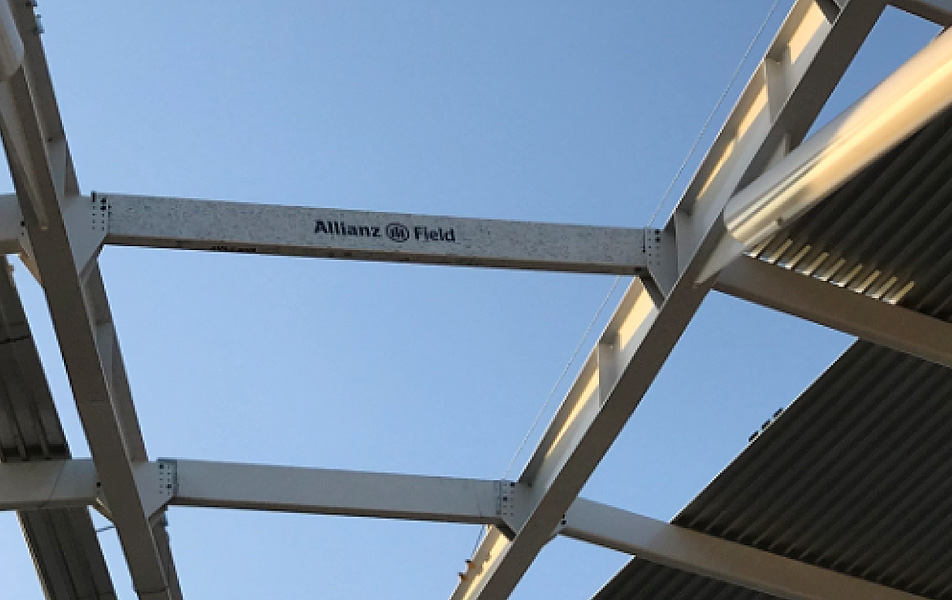 Seats? Scoreboard? Check. Sixty percent of the stadium's 19,400 seats have been installed along with the scoreboard that looms at the north end of the field. Next to the scoreboard, a giant loon's head is being painted where 2,800 of the club's various groups of supporters will gather every game.
Upon completion, construction of Allianz Field is projected to have provided 1,900 jobs with more than $50 million in wages. Allianz Field is being brought to life by crews of Mortenson Construction who logged more than 225,000 hours over the summer. Allianz showed our appreciation for all of their hard work at a special lunch earlier this summer.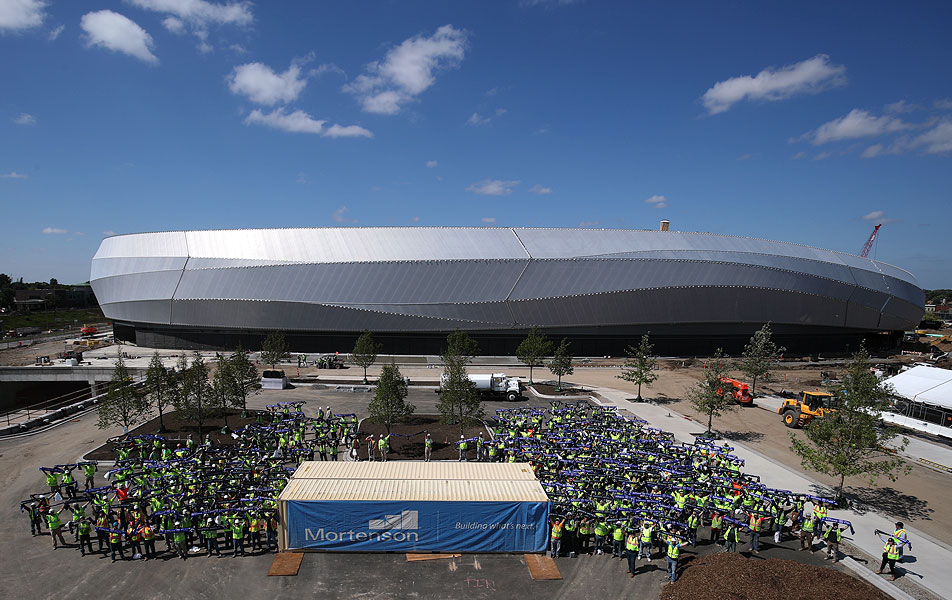 The Loons will play their final 2018 season match in TCF Bank Stadium on Sunday, October 21. To celebrate, Minnesota United is hoping to shatter a 40-year attendance record of 49,572 that has stood since the Minnesota Kicks won the NASL Conference Championship. This #50kToMidway match will feature throwback concessions, tailgating, and more while the team prepares to pack up and head to their new home, Allianz Field.
Allianz Field fast facts:
Cost to build: $250 million – 100% private funding
Closest seat to the pitch: 17 feet
Furthest seat to the pitch: 125 feet
Seating capacity: 19,400
Total square feet of built space: 346,000
Size of playing field: 120 x 75
For more details as well as a live construction cam, visit www.mnufc.com/stadium
.