Key points from AIM's May 2019 market commentary
The labor market continued to tighten with the unemployment rate dropping to 3.6%, which marked the lowest reading since December 1969.
Following a brief hiatus in February, the U.S. labor market has come booming back with the headline figure showing 263K jobs added during the month of April. Although payroll additions continued to strengthen in April, wage inflation has yet to make a meaningful appearance. Overall, April's labor market report extends the runway for the Fed to remain patient when it comes to changing monetary policy.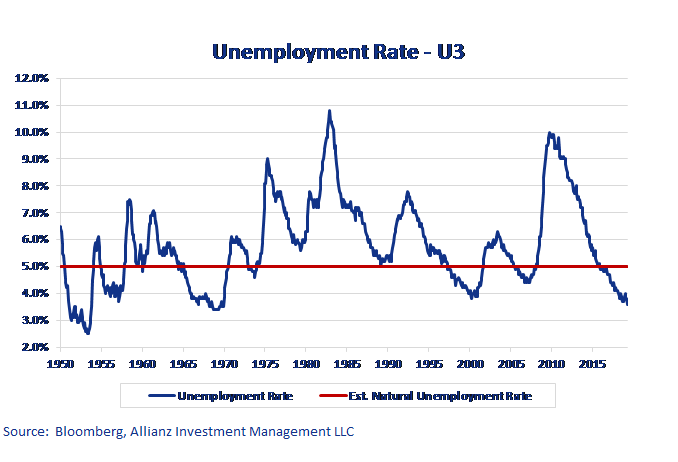 There was no clear signal from the Fed for the next move in policy rates, as they appear committed to their wait-and-see policy stance.
Following the latest FOMC meeting, the Fed appears tactically committed to holding interest rates steady for the remainder of the year as growth in the U.S. has slowed less than expected. Though there was no expectation for a rate move in either direction, many investors, including us, were eager to see whether Chairman Powell would throw cold water over the president's latest call for the Fed to move rates lower by one percentage point. Market participants continue to expect the next move in the main policy rate to be lower, but the reiterated patient stance of the Fed may leave both the president and market participants waiting longer for a rate cut. Ultimately, the Fed hasn't tipped their hand to the direction they intend to move policy rates next, leaving market participants to instead take cues from incoming economic data to anticipate their next move.
U.S. GDP for the first quarter of 3.2% was significantly higher than expectations and a full percentage point above fourth-quarter growth.
This was a full percentage point above-fourth quarter GDP of 2.2% and was a sign that growth in the U.S. may not slow as much as some investors had anticipated. While underlying details show much of the acceleration was driven by an inventory build and a smaller drag from imports, we expect this to reverse in the second quarter and consumption spending to pick up again.
Anecdotally, we continue to see a theme taking shape in which the U.S. economy remains somewhat isolated from the slowing growth pressures abroad. Admittedly, there was some potential borrowed growth in the latest GDP data, as much of the increase in growth was driven by the inventory build that will likely be a drag during the second quarter.
The goldilocks environment of moderate growth, steady interest rates, and low inflation has helped propel equity markets to record highs.
Volatility was subdued throughout April as the VIX Index sat below 15 for the entire month. This is not surprising as equity markets reached historic highs throughout the month. Steadily increasing equity markets are often associated with lower levels of volatility. Thus, it would not be out of the ordinary for volatility to remain low if equity markets continue to trend higher in the coming months.
Back to Connect with Allianz
Market Commentary
– exclusive market updates from Allianz Investment Management LLC, industry and legislative news, plus insights from our leaders.