Key points from AIM's November 2018 market commentary
Uncertainty around future growth crept into the market causing the worst equity rout in seven years
Volatility strikes back! October was setting up to be another solid month of equity gains given the very strong economic backdrop, but that quickly turned south as uncertainty crept into the market causing the worst equity rout in seven years. The S&P 500® Index recorded a loss of 6.94% while the Nasdaq-100® Index was even worse with an 8.66% monthly drop. The sell-off in stocks highlights investors' concerns around several factors including rising interest rates, U.S. and China trade relations, and peaking corporate profits. Ultimately, all of these factors are leading to greater uncertainty around future growth.
Volatility is elevated and we expect this to persist as the Fed makes further progress on removing accommodative monetary policies
One factor making investors uneasy has been centered on corporate profits and the potential for them reaching a peak. There has been some belief among market participants that the third-quarter earnings will be as good as it gets and growth in earnings will begin to slow. Specifically, the technology sector has been a large area of concern with large-cap companies such as Apple and Amazon dropping significantly over growth concerns. We recognize the difficulty to forecast peaks in equity markets and business cycles, but going forward, we expect market volatility to remain elevated as investors wrestle between the tailwinds of a solid macroeconomic backdrop and the desire for protection from the downside.
The labor market continues to be blistering hot with 250K jobs added in October
Regarding macroeconomic data, we continue to see positive signals from the labor market and survey-based business cycle indicators, while there has been some weakness in housing and real estate markets. The U.S. economic surprise index portrays that. For investors that were concerned about the potential for a slowing economy, it certainly didn't show up in the latest employment data. The U.S. economy added 250K jobs during October, which was well above the 200K consensus estimate. Most notably, the average hourly earnings rose by 0.2% and lifted the annual figure to 3.14%, the highest annualized wage figure since 2009.
Trade tensions between the U.S. and China remain elevated, which is causing some concern around growth
While progress was made with our trading partners to the north and south with the new US-Mexico-Canada trade agreement, trade tensions remain elevated between the US and China. Currently 10% tariffs on $200 billion in Chinese imports are set to rise to 25% on January 1, 2019 and additional threats have been made to add tariffs on the remaining imported goods from China. With the tensions between the US and China being a large driver of uncertainty in the markets, the news of progress on the trade front will be welcomed by investors and businesses alike.
To the extent uncertainty and the potential for slowing growth persists, we believe markets may remain volatile
After giving up most of the gains for the year in October, equities appear to be off to a better start in November, but to the extent uncertainty and the potential for slowing growth persists, we believe markets may remain volatile.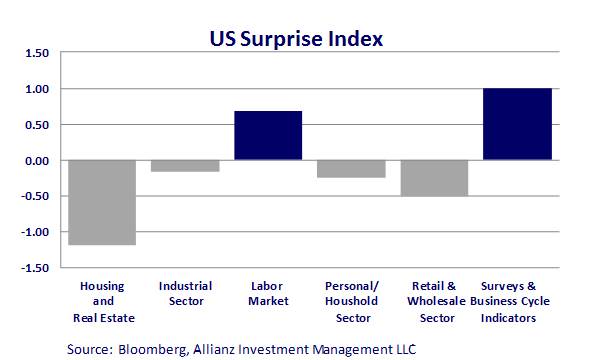 Get the full November 2018 Market Update here.
Back to Connect with Allianz
Market Commentary
– exclusive market updates from Allianz Investment Management LLC, industry and legislative news, plus insights from our leaders.