How are your boomer clients feeling? Find out what this could mean for your practice.
While most Americans experience some uncertainty when it comes to their financial future, the new 2017 Allianz Generations Ahead Study revealed increasing signs of optimism, especially among boomers. Seven out of 10 boomers report feeling financially prepared for retirement - up almost 15 percentage points from 2010, when boomers felt more apprehensive about their future. While this isn't too surprising given their proximity to retirement, their improving financial habits regarding spending and saving also play a role. Whether it's their patience in waiting for a sale or their view that saving for retirement is a necessity like food or housing, these financial attitudes and behaviors are helping to set boomers up for success.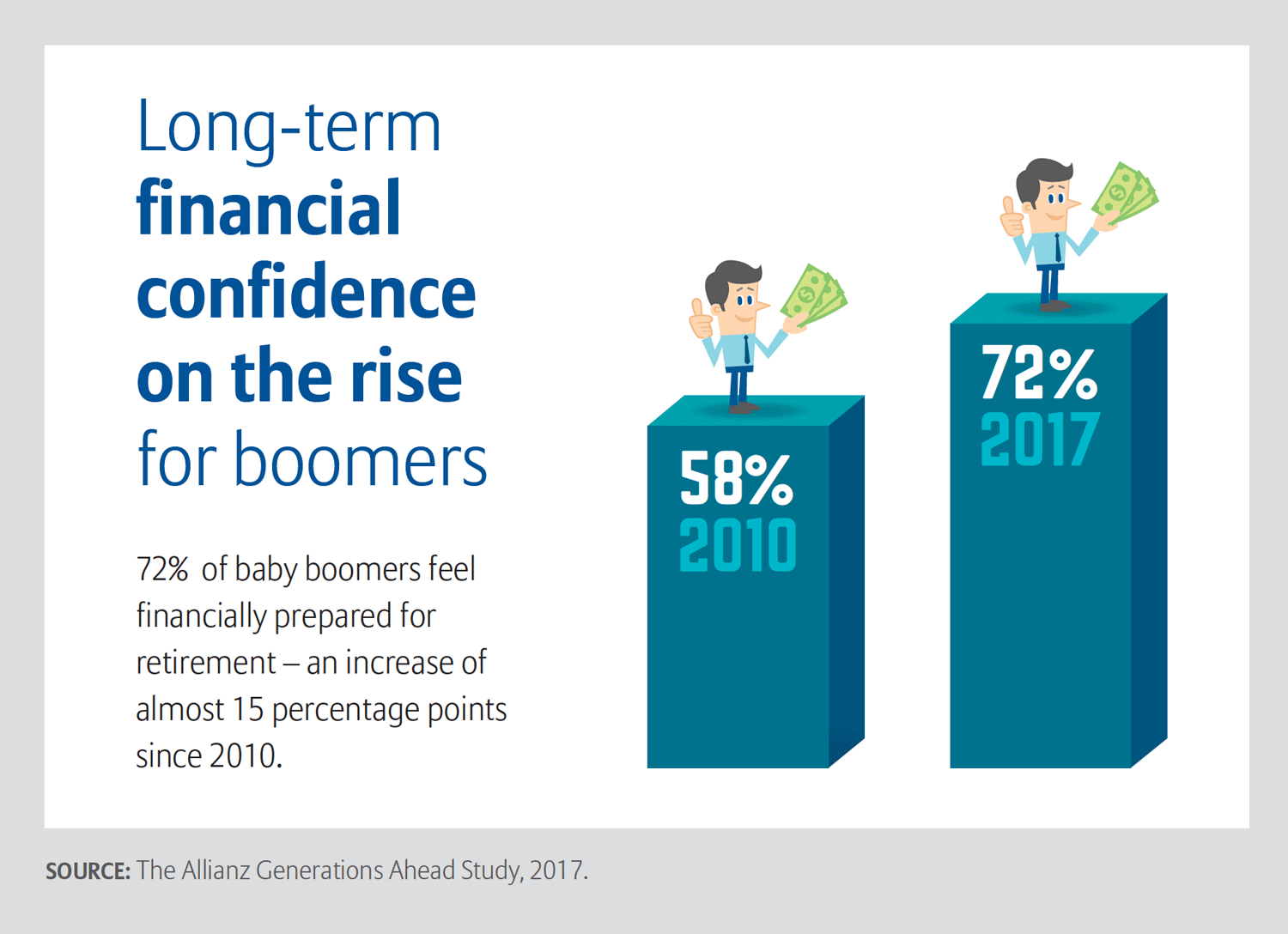 When looking at how boomers compare to their Gen X and millennial counterparts:
64% of boomers see themselves as savers compared to 63% of millennials, who consider themselves as spenders.
Boomer's median amount saved for retirement is $175,000 compared to a median $35,000 for Gen X and millennials. In addition, 33% of boomers report saving $250,000 or more.
How can you serve or attract more financially prepared boomers? Our study revealed insights on boomers' qualities and their preferences for working with a financial professional, including:
Increasing their technological savviness in the financial space
Wanting a financial professional who can communicate with them on their terms
Preferring phone and email communication about one to three times per month
Wanting guaranteed products over products with a risk of loss
Additionally, those boomers who are not currently working with a financial professional would be more willing to work with one if the financial professional was able to provide a way for guaranteed lifetime income.
The first step to better serving your boomer clients or prospects is understanding their unique financial personality as it relates to their retirement planning strategies. Download our Financial personality questionnaire today so you can understand your boomer clients' financial attitudes and behaviors to help them meet their retirement goals.
Back to Connect with Allianz
Research
- Gain actionable insights into market trends – including generational differences and longevity – from our proprietary studies.