Allianz 360SM Annuity
It's natural to be concerned about saving enough for retirement – but it's important to have an income strategy, too. Allianz 360SM Annuity with its 360 Benefit rider1 can help.
Like all fixed index annuities, Allianz 360 Annuity and the 360 Benefit rider (included at an additional cost) offer you principal protection, potential indexed interest, and the potential for tax-deferred growth.
Plus, Allianz 360 Annuity and the 360 Benefit rider go one step further by giving you:
an interest bonus2 equal to 50% of the interest that is credited to your contract until withdrawals begin,
increasing income withdrawal percentages beginning at age 40, and
a choice of lifetime income withdrawal options beginning at age 50.
The bonus is credited each year the selected allocations earn interest. During the first 10 contract years, we will apply a surrender charge if the contract is partially or fully surrendered. These charges may result in a loss of, indexed interest and fixed interest, interest bonus and a partial loss of principal (premium).
Allianz 360 Annuity may be a good choice if you're looking for retirement accumulation opportunities, with the flexibility to start receiving lifetime retirement income when you're ready.
Watch the videos to learn more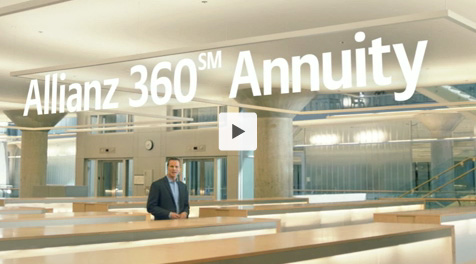 1 The annual charge for the 360 Benefit rider is 1.05% of the contract's accumulation value. You can cancel the 360 Benefit rider anytime after the fifth contract year. Once you terminate the 360 Benefit rider it may not be reinstated.
2 Bonus annuities may include higher surrender charges, longer surrender periods, lower caps, higher spreads, or other restrictions that are not included in similar annuities that don't offer a bonus.
---
Next steps:
Download product information
Any distributions are subject to ordinary income tax and, if taken prior to age 59½, a 10% federal additional tax.
Guarantees are backed by the financial strength and claims-paying ability of Allianz Life Insurance Company of North America.
• Not FDIC insured • May lose value • No bank or credit union guarantee • Not a deposit • Not insured by any federal government agency or NCUA/NCUSIF
Products are issued by Allianz Life Insurance Company of North America, PO Box 59060, Minneapolis, MN 55469-0060. (C54370, R95316)
In the state of New York, only Allianz Life Insurance Company of New York is authorized to offer annuities and life insurance.
Product and feature availability may vary by state and broker/dealer.