Allianz 365i® Annuity

It's important to save for retirement. But it's important to have an income strategy, too. Allianz 365i® Annuity can help with both.
Like all fixed index annuities, Allianz 365i Annuity offers you principal protection from market downturns, potential indexed interest, and tax deferral.
Plus, Allianz 365i annuity offers a powerful combination of features and benefits, including:
a 3% premium bonus1 on any money you place in your annuity in the first 18 months of the contract,
access to your full accumulation value, including your bonus, after a 10-year surrender charge period, and
flexible income options, including income you can't outlive.
Allianz 365i Annuity and the optional Income Maximizer Rider, available for an additional cost, may be a good choice if you want guaranteed interest accumulation and the opportunity for additional interest credited to your retirement income rider value.
Watch the videos to learn more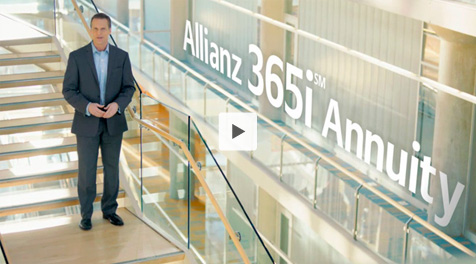 1 The bonus is subject to a 10-year vesting schedule. 10% of the bonus will become vested on each contract anniversary until the beginning of the 11th contract year, when 100% will be vested. If you surrender your contract before the 11th contract year, you will lose the unvested bonus. Bonus annuities may include higher surrender charges, longer surrender charge periods, lower caps, higher spreads, or other restrictions that are not included in similar annuities that don't offer a premium bonus feature. During the first 10 contract years, we will apply a surrender charge and unvested bonus reduction if you partially or fully surrender your contract. The same would apply if you begin annuitization, which means receiving regular annuity payments over a specified period of time, prior to the sixth contract year (or for fewer than 10 years). These charges may result in a loss of bonus, indexed interest and fixed interest, and a partial loss of principal (your premium).
---
Next steps:
Talk to your financial professional to see if Allianz 365i Annuity is appropriate for you. Here are some questions they can help answer:
How are the annuity's principal and any credited interest protected?
How can this product provide income for life and assist with the rising cost of living?
What backs up any guarantees available with this product?
What else should I consider that might impact my retirement?
Any distributions are subject to ordinary income tax and, if taken prior to age 59½, a 10% federal additional tax.
Guarantees are backed by the financial strength and claims-paying ability of Allianz Life Insurance Company of North America.
• Not FDIC insured • May lose value • No bank or credit union guarantee • Not a deposit • Not insured by any federal government agency or NCUA/NCUSIF
Products are issued by Allianz Life Insurance Company of North America, PO Box 59060, Minneapolis, MN 55459-0060. (C54370-MVA, R95331-01-MVA)
In the state of New York, only Allianz Life Insurance Company of New York is authorized to offer annuities and life insurance. www.allianzlife.com/new-york
Product and feature availability may vary by state and broker/dealer.