These days, just saving for retirement isn't enough. You want your money to grow – and you want to protect it so it's there when you need it most.
Investing in Allianz Index Advantage Variable Annuity may be the answer for part of your overall retirement strategy. Allianz Index Advantage combines the potential for long-term growth through market participation.
Allianz Index Advantage offers you a combination of traditional variable options with two innovative index strategies. This gives you the opportunity to grow your retirement nest egg – with a level of asset protection for the principal you invest. Together, they can offer you a level of protection in today's uncertain market environment.
Watch the video to learn more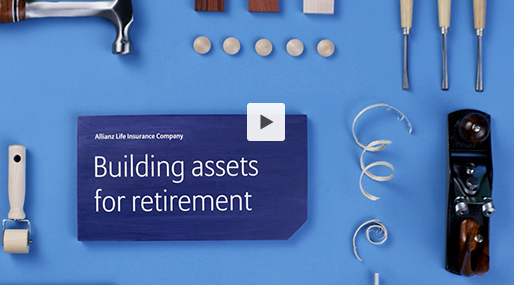 ---
Next steps:
Talk to your registered representative to see if Allianz Index Advantage Variable Annuity is appropriate for you. Here are some questions they can help answer:
Are the annuity income or purchase payments protected?
How can this product fit into my overall portfolio?
Are there guarantees available with this product?
What else should I consider that might impact my retirement?