Allianz ConnectionsSM Variable Annuity

It's time to rethink retirement.
These days, Americans need to take more responsibility in saving for retirement. But saving alone isn't enough. You want your money to grow, and you want to protect it so it's there when you need it most.
Allianz ConnectionsSM Variable Annuity can help. It offers growth potential and a level of protection through the investment options and optional benefits that are available for an additional charge.
Whether you want the opportunity to build lifetime income, save for another retirement goal, or leave something for your loved ones, Allianz Connections may be the solution.
Watch the video to learn more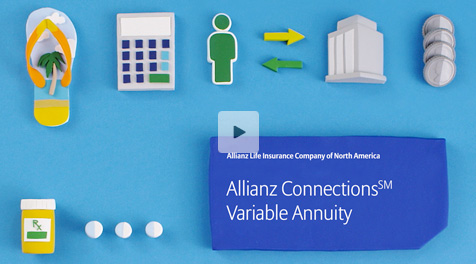 ---
Next steps:
Talk to your registered representative to see if Allianz Connections Variable Annuity is appropriate for you. Here are some questions they can help answer:
Are the annuity income or purchase payments protected?
How can this product fit into my overall portfolio?
Are there guarantees available with this product?
What else should I consider that might impact my retirement?
Check the background of Allianz Life Financial Services, LLC on FINRA's BrokerCheck.
---
Investing in a variable annuity may be the answer for part of your overall retirement strategy. A variable annuity offers a unique combination of features, including market participation through a variety of investment options; tax-deferred growth opportunities; and optional protection benefits that can provide certain accumulation, income, and beneficiary guarantees for an additional cost.
Variable annuities are subject to investment risk, including loss of principal, and contract values fluctuate daily. Investment returns and principal value will fluctuate with market conditions so that units, upon distribution, may be worth more or less than the original cost.
Withdrawals will reduce the contract value and the value of any protection benefits. Withdrawals taken within the contract withdrawal charge schedule will be subject to a withdrawal charge. All withdrawals are subject to ordinary income tax and, if taken prior to age 59½, may be subject to a 10% federal additional tax.
For more complete information about variable annuities and variable investment options, call your financial professional or Allianz Life Financial Services, LLC at 800.624.0197 for a prospectus. The prospectuses contain details on investment objectives, risks, fees, and expenses, as well as other information about the variable annuity and variable investment options, which you should carefully consider. Please read the prospectuses thoroughly before sending money.
Guarantees are backed by the financial strength and claims-paying ability of Allianz Life Insurance Company of North America. Variable annuity guarantees do not apply to the performance of the variable subaccounts, which will fluctuate with market conditions.
• Not FDIC insured • May lose value • No bank or credit union guarantee • Not a deposit • Not insured by any federal government agency or NCUA/NCUSIF
Products are issued by Allianz Life Insurance Company of North America, 5701 Golden Hills Drive, Minneapolis, MN 55416-1297 and are distributed by its affiliate, Allianz Life Financial Services, LLC, member FINRA, 5701 Golden Hills Drive, Minneapolis, MN 55416-1297. (L40529, L40534-01)
Product and feature availability may vary by state and broker/dealer.