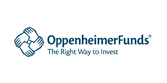 OppenheimerFunds is an investment adviser and is the successor to an investment adviser registered under the Investment Advisers Act of 1940 in 1960.
OppenheimerFunds' beginnings can be traced back to the late 1950s and the brokerage firm Oppenheimer & Co. (OpCo). Near the end of that decade, OpCo entered the mutual fund business, first offering the Oppenheimer Fund to the public on May 15, 1959. Shortly after, OpCo created a subsidiary, Oppenheimer Management Corporation, to serve as the investment advisor to the Oppenheimer Fund. In 1996, Oppenheimer Management Corporation was renamed OppenheimerFunds, Inc. Today, the company, which is owned by MassMutual Life Insurance Company and OppenheimerFunds senior management, has become one of the most widely recognized and respected investment management firms in the United States.
OppenheimerFunds is not affiliated with Oppenheimer & Co, Inc. or Oppenheimer Capital.
OppenheimerFunds, Inc.
Two World Financial Center, 225 Liberty Street
New York, NY 10281
800.734.5222
www.oppenheimerfunds.com
Investment options