Dreyfus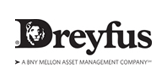 Dreyfus provides unique access to BNY Mellon Asset Management's exclusive and diverse global network of world-class asset managers, delivering powerful investment insight and strategies, backed by the strength of our commitment to quality, performance and client relationships.*
* The Dreyfus Corporation is a subsidiary of The Bank of New York Mellon Corporation. BNY Mellon Asset Management is the umbrella organization for all of BNY Mellon's affiliated investment managers and brokerage firms and is responsible for U.S. and non-U.S. retail, intermediary and institutional distribution of investment management and related services.
MBSC Securities Corporation
144 Glenn Curtiss Blvd.
Uniondale, NY 11556
www.dreyfus.com
Investment options
Guarantees are backed by the financial strength and claims-paying ability of the issuing company. Variable annuity and variable life insurance guarantees do not apply to the performance of the variable subaccounts, which will fluctuate with market conditions.
• Not FDIC insured • May lose value • No bank or credit union guarantee • Not a deposit • Not insured by any federal government agency or NCUA/NCUSIF
Products are issued by Allianz Life Insurance Company of New York, 28 Liberty Street, 38th Floor, New York, NY 10005-1422. Variable products are distributed by its affiliate, Allianz Life Financial Services, LLC, member FINRA, 5701 Golden Hills Drive, Minneapolis, MN 55416-1297.
Product and features are available only in New York and may vary by broker/dealer.