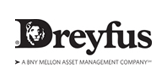 Dreyfus provides unique access to BNY Mellon Asset Management's exclusive and diverse global network of world-class asset managers, delivering powerful investment insight and strategies, backed by the strength of our commitment to quality, performance and client relationships.*
* The Dreyfus Corporation is a subsidiary of The Bank of New York Mellon Corporation. BNY Mellon Asset Management is the umbrella organization for all of BNY Mellon's affiliated investment managers and brokerage firms and is responsible for U.S. and non-U.S. retail, intermediary and institutional distribution of investment management and related services.
MBSC Securities Corporation
144 Glenn Curtiss Blvd.
Uniondale, NY 11556
www.dreyfus.com
Investment options