Federated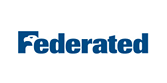 Established in 1955, Federated is a client-driven, multi-product, multi-strategy investment manager catering to a wide range of institutional investors in the public and private sectors. Federated offers broad product lines spanning domestic and international equity, fixed-income, alternative and money market strategies with the goal of long-term consistent, competitive performance. We manage each product to seek greater alpha by employing proprietary research, style consistency and risk management. Our investment process is driven by a collaborative team of experienced portfolio managers, analysts and traders who strive to add value at each step of the process. Federated's investment management strength, broad product line, distribution depth and service quality have led to our status as one of the largest investment management firms in the industry.
Federated Investors, Inc.
1001 Liberty Ave
Pittsburgh, PA 15222
888.400.7842
www.federatedinvestors.com
Investment options
Guarantees are backed by the financial strength and claims-paying ability of the issuing company and do not apply to the performance of the variable subaccounts, which will fluctuate with market conditions.
Products are issued by Allianz Life Insurance Company of New York, One Chase Manhattan Plaza, 38th Floor, New York, NY 10005-1423, and distributed by its affiliate, Allianz Life Financial Services, LLC, member FINRA, 5701 Golden Hills Drive, Minneapolis, MN 55416-1297.
Product and features are available only in New York, and may vary by broker/dealer.