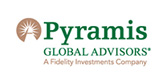 Fidelity Investments is one of the world's largest providers of financial services, with assets under administration of $3.5 trillion, including managed assets of $1.6 trillion, as of May 31, 2012. Founded in 1946, the firm is a leading provider of investment management, retirement planning, portfolio guidance, brokerage, benefits outsourcing and many other financial products and services to more than 20 million individuals and institutions, as well as through 5,000 financial intermediary firms. For more information about Fidelity Investments, visit www.fidelity.com.
Pyramis Global Advisors, A Fidelity Investments Company
900 Salem St
Smithfield, RI 02917
800.544.1916
www.advisor.fidelity.com
FIDELITY, FIDELITY INVESTMENTS and Pyramid logo, and VIP FundsManager, Pyramis and the Pyramis Global Advisors logo are registered service marks of FMR LLC. Used with permission.
Investment options