Schroder Investment Management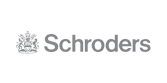 Schroder Investment Management is a global asset management company with more than 200 years of experience in world financial markets and managed more than $226 billion as of December 29, 2006. Schroders' current levels of expertise, market presence and client assets are the result of long-term growth over many decades. The company is a purely focused asset management business offering clients tremendous breadth in locally managed products, delivered through a fully integrated global distribution platform.
Schroder Investment Management North America Inc.
875 Third Avenue, 22nd Floor
New York, NY 10022- 6225
Phone: 212.641.3830
www.schroders.com/us
Investment options
Guarantees are backed by the financial strength and claims-paying ability of the issuing company. Variable annuity guarantees do not apply to the performance of the variable subaccounts, which will fluctuate with market conditions.
• Not FDIC insured • May lose value • No bank or credit union guarantee • Not a deposit • Not insured by any federal government agency or NCUA/NCUSIF
Products are issued by Allianz Life Insurance Company of New York, 28 Liberty Street, 38th Floor, New York, NY 10005-1422. Variable products are distributed by its affiliate, Allianz Life Financial Services, LLC, member FINRA, 5701 Golden Hills Drive, Minneapolis, MN 55416-1297.
Product and features are available only in New York and may vary by broker/dealer.