The baby boom generation is facing one of the most pronounced retirement income challenges in history. They'll risk outliving their savings. They'll be more vulnerable to market downturns. And once-reliable sources of retirement income may disappear.
With these challenges in mind, we designed The Allianz Reclaiming the Future Study in 2010 to look comprehensively at how baby boomers are responding. We also looked into consumer and financial professional attitudes toward annuities.
Summary of study findings
Americans believe there is a retirement crisis and fear they are unprepared.

When asked, "Do you believe there is a retirement crisis in this country?" 92% of the respondents answered affirmatively. Among those in their late 40s, that number rose to 97%. And all 100% of the respondents with lower income levels agreed that the U.S. is facing a retirement crisis.1
Many respondents indicated they have become unsure about their own retirement.
Lack of preparedness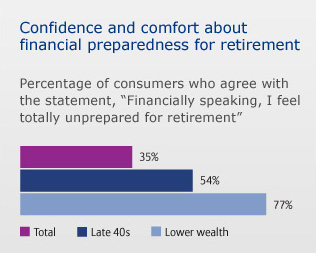 Among respondents aged 44-54, 51% feel unprepared for retirement, and 77% of those with lower income levels feel "totally unprepared for retirement."1
More women than men feel unprepared: 43% of women vs. 35% of men.
56% of those respondents aged 44-54 indicated that recent market events have caused them to question when, and even whether, they can retire.
Lack of savings
57% indicated they're worried that their nest egg may not be large enough.
47% are afraid of not being able to cover their basic living expenses. This number soars to 77% among those with lower income levels.1
Americans fear outliving their money more than they fear death.
Life expectancy is increasing and causing people to spend more years in retirement. As pension plans disappear and Social Security benefits dwindle, many face the challenge of funding their own retirement. The result? Americans are increasingly at risk of outliving their assets.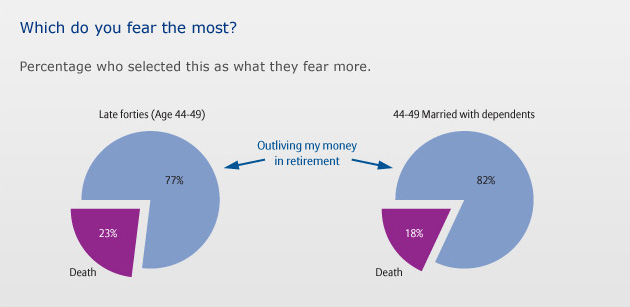 New challenges, new concern
The study indicates that many people are acutely aware of these risks:
Between 58% and 60% of the respondents in all age groups worry about longevity.
A surprising 61% of all respondents said they were more scared of outliving their assets than they were of dying. That number climbed to 77% for those aged 44-49, and rose even higher (82%) for those in their late 40s who had dependents.
39% feel they're more likely to be hit by lightning than to get their full due from Social Security. For middle-class respondents, this number rose to 56%.2
The economic downturn was a big wake-up call.
The economic downturn that began in 2008-2009 caused a major shift in the finances and behaviors of many Americans.
Effects reported by respondent
Respondents provided specific examples of how the downturn affected them:
53% reported that their net worth dropped significantly in a very short period.
43% saw their home's value drop.
41% realized that they were not as "in control" of their financial future as they'd previously thought.
Changing market, changed behavior
The rules were changing - and many of the respondents' behaviors soon followed:
52% cut back on entertainment and dining expenses.
42% found ways to cut daily expenses.
11% told their kids to expect less financial support.
5% decided to move to a less expensive area.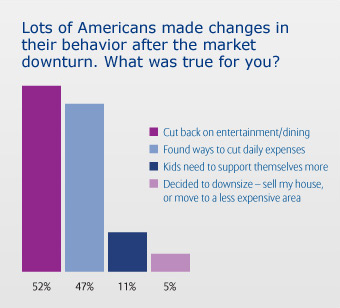 Many of the respondents said the downturn prompted greater financial engagement:
22% said they began watching or reading more financial news
15% reported paying greater attention to the "fine print."
14% started reading their financial statements "a lot more closely."
Annuity-like solutions are gaining relevance and appeal.
When planning for retirement, Americans must now address three primary challenges:
Looking beyond defined benefit plans or Social Security for retirement income
Guarding against outliving assets
Protecting assets from market downturns
Safety is now preferred over growth
A majority of the study's respondents agreed that the safety of their money matters more to them than it did a few years ago. Respondents were asked to choose from a wide selection of variables that included high returns, low fees, and so forth:
69% said they'd prefer a product that was "guaranteed not to lose value" rather than a product whose goal was "providing a high return."
80% preferred a product with 4% return and a guarantee against losing value over a product with 8% return and a vulnerability to market downturns.
56% preferred an annuity-like solution (moderate growth opportunity, guaranteed monthly income for life, but limited access) to a product that provides total access but risks running out of money. Among the mass affluent, this number rose to 77%.3
Top 5 most important
Stable, predictable retirement standard of living
Guaranteed income stream for life
Guaranteed not to lose value
Protect against market downside
Don't think about, stable, predictable
Boomers are describing an annuity-like solution as what they most want, without even knowing that this is an annuity!
Lingering misperceptions about annuities
A number of participants disliked the word "annuity"—even after describing an annuity-like solution as ideal. Many admitted their opinions were formed many years ago, and that they hadn't researched annuities since.
Satisfaction of annuity owner
Annuities were ranked second-highest in satisfaction among consumers, beating out mutual funds, stocks, U.S. Savings Bonds, and CDs. (Gold and precious metals came in first). Of those surveyed who own annuities, 76% are happy with their purchase because they consider annuities to be:
A safe long-term investment vehicle (57%).
A great way to supplement their retirement income (56%).
An effective way to get tax-deferred growth potential (56%).
The economic downturn that began in 2008-2009 caused a major shift in the finances and behaviors of many Americans.
1"Lower income" was defined as a household income of $30,000-$45,000 and investable assets of under $50,000.
2"Middle-class respondents" were defined as households with an income of $45,000-$75,000 and investable assets of $50,000-$100,000.
3The "mass affluent" were defined in this study as households with an income of $100,000-$150,000+, and investable assets of $300,000-$500,000+.