Certainty
It's important to have the certainty that you'll enjoy the same standard of living - and that and you won't run out of money - no matter how long you live.
---
There are two certainties in retirement: We're living longer, and we'll continue to experience market volatility. But with the proper planning, you can add a third certainty to your retirement: that you'll have a guaranteed stream of income by utilizing annuities.
Longevity
In 1935, the average life expectancy was 63.3 years for women and 59.4 years for men. But in 2010, those figures had risen to 80.0 years and 75.4 years, respectively.2 Assuming retirement at age 65, it's conceivable that some of us could spend 20 years - or longer - in retirement.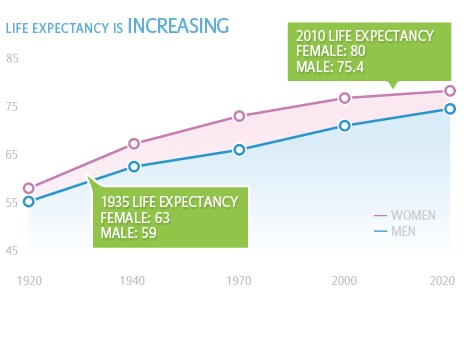 2 Life Tables for the United States Social Security Area 1900-2100 – Actuarial Study No. 120.
Volatility
Another certainty for people in or nearing retirement is market volatility. Markets are by nature inherently volatile, so some degree of movement is expected. However, the extreme volatility of recent history within the stock market has become the norm rather than the exception, as evidenced by the 30-year performance of the S&P 500® Index.
As a matter of course, investors – retired or not – should periodically consult with a trusted financial professional about retirement assets. Market volatility and the investor's level of comfort with it should be among the topics discussed. As noted, market volatility is a certainty. When volatility is better understood and clearly anticipated, it can be managed along with other market-related risks.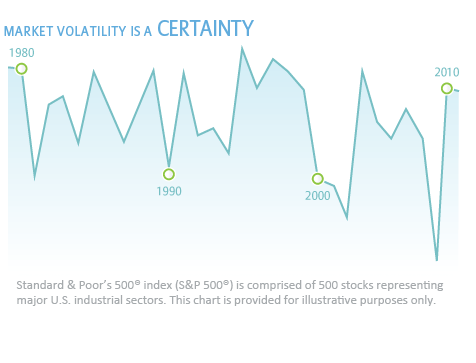 Certainty
Fortunately, there are solutions to these challenges – and one of these could be an annuity. Fixed annuities are designed to meet long-term needs for retirement income. They provide guarantees against the loss of principal and credited interest, and the reassurance of a death benefit for beneficiaries.
Annuities:
Not all are alike.
All annuities are insurance products: They're simply a contract between you and an insurance company. You give the insurance company an amount of money ("premium") and in exchange, you get certain guarantees and benefits.
Annuities are designed to provide guaranteed income in some cases for life. But there are many different kinds of annuities, each designed to address a specific financial need:
Immediate annuities begin providing income payments as soon as you purchase them, for example.
Deferred annuities start income payments at some point down the road. Deferred annuities usually carry penalties if you take income sooner than the contract allows.
Annuities also vary in how they credit interest.
Fixed annuities pay interest at a set rate.
Fixed index annuities also give you the option of fixed interest, plus they also let you allocate your premium to an index allocation option. Your annuity then earns interest based on positive changes in a selected external index. This gives you the potential to receive indexed interest when the index heads up, but because you're not actually participating in the market you also have downside protection."
Withdrawals will reduce the contract value and the value of any protection benefits. Additional withdrawals taken within the contract withdrawal charge schedule will be subject to a withdrawal charge. All withdrawals are subject to ordinary income tax and, if taken prior to age 59½, may be subject to a 10% federal tax penalty.
---