Clarity
Your framework for retirement starts with a clear picture of where you are - and where you want to go.
---
If you're like most Americans, you're concerned about your retirement. But while there are some real challenges, they can be overcome with proper planning and the appropriate solutions.
That's why it's important to gather some facts, develop a clear picture of your current situation, and reframe what you want your retirement to look like. Answering just five simple questions can help you and your financial professional make sure you're on the right track for the transition that lies ahead.
How much income will you need in retirement?
Some estimates indicate that you'll probably need about 70 - 80% of your current income as a foundation for retirement income but baby boomers may change this current thinking.
How many years might you live in retirement?
Many Americans alive today could spend 20 - or more - years in retirement. Will your income last?
People are living longer in retirement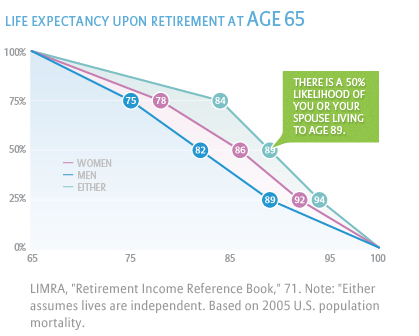 What resources do you have to fund your retirement?
Americans are increasingly responsible for funding their own retirement. Are you contributing to an IRA, 401(k) or another retirement-savings account?
What is your risk tolerance?
Knowing how comfortable you are with the possibility of losing money can help you choose financial products that match your risk tolerance and long-term financial goals.
Do you plan to leave anything to your heirs or favorite charities?
For many Americans, leaving a legacy is an important part of their retirement strategy.
Needs, wants, and wishes
Our complex global economy is based on a very simple idea: Most people have unlimited wants, but limited resources. As you create a retirement income strategy, it's critical to be aware of this fact – and to prioritize your spending accordingly.
When you consider how you'll spend money in retirement, it may be helpful to think about needs, wants and wishes.
It's a fact that most of us will always want more than we can afford. But by planning ahead – and by spending according to your own priorities and goals - you may have a better chance of being able to afford the things that matter most to you when you retire.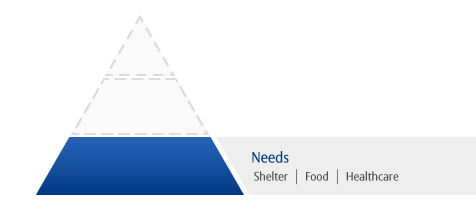 Needs are the basics you can't get by without: housing, food, transportation, and health care. At a very minimum, your retirement income strategy should provide for your basic needs.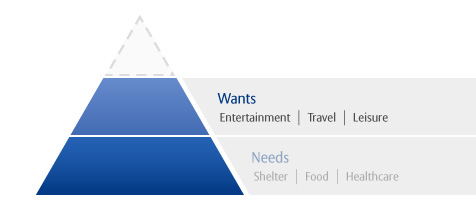 Wants are things you would like to have, but can do without. Some examples are cable television, new clothes, entertainment, or dining out. To maintain your current standard of living in retirement, you may need an income strategy that allows you to purchase at least some of your wants.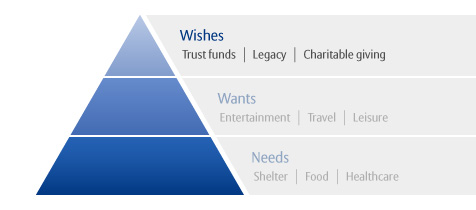 Wishes are things you might hope for – like travel or a bigger home – that don't fit into your everyday budget. If fulfilling some of your wishes in retirement is important to you, talk to your financial professional about planning for them as you develop your retirement income strategy.
---