Cost of living
Discover how inflation and longevity can affect your standard of living in retirement - and what you can do about it.
---
For many retirees, the increasing cost of living can be a major concern. That's because some retirement strategies may not consider the effect inflation can have on your savings, especially if you spend two decades - or even longer - in retirement.
Unless your retirement strategy solves for inflation, you could be risking a retirement income gap. This simply means that your monthly living expenses could exceed your income, and that you could risk running out of money.
Here are a few reasons to consider inflation as you plan for retirement
Your purchasing power
First, inflation can chip away at your purchasing power over time. If the current inflation rate of 2.35% remains steady, $25 will buy you half as many groceries in 20 years as it does today. But keep in mind that you could also deplete your savings faster. (Source: U.S. Department of Labor, Bureau of Labor Statistics.)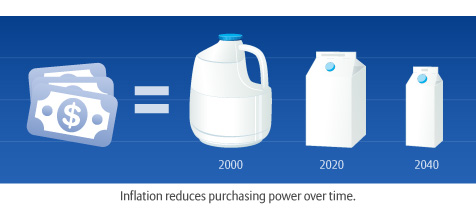 The cost of health care
Second, inflation matters because the cost of health care is rising faster than the cost of consumer goods (the cost of health insurance premiums increased by 160% between 1999 and 2011, compared to a 38% increase in the cost of consumer goods).2 This disproportionate increase, combined with the fact that you may need more health care in retirement, could combine to erode your savings.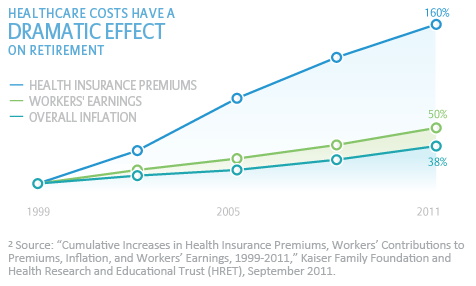 Savings
Finally, it's important to be aware that your current savings and assets may not fully address inflation. Some financial vehicles may not pay enough interest to keep up with inflation, especially over longer periods of time although they generally carry a lower level of risk. And although other financial vehicles have the potential for higher yields, they also involve greater risk - and risk may be a concern as you transition into or enter retirement. You should consult with your financial professional to determine what may be appropriate for your situation.
What is inflation?
What it is: There are many kinds of inflation - and lots of causes. But in the simplest terms, let's define inflation as an ongoing rise in the cost of consumer goods and services.
How it's measured: Each month, the government tracks the cost of more than 80,000 goods and services, and averages the prices. The result of this averaging is a number called the Consumer Price Index, or CPI. The CPI is simply a measurement of how much things cost today, compared to a point in the past.
Why it matters: While you're still working, you're probably getting "cost of living" raises that may help you keep pace with inflation. But after you retire, your income is more likely to stay steady. Over time, this could erode your purchasing power - and potentially reduce your standard of living - because your income may not keep up with the rising cost of goods and services.
Does your retirement strategy address inflation?
Ask your financial professional about financial products that are specifically designed to address the effects of inflation to determine what may be appropriate for your situation.
---