INSIGHT 5: "Bag lady" fears persist among even the most successful women
INSIGHT 5: "Bag lady" fears persist among even the most successful women
One of the most stunning outcomes of this survey was the discovery of an irrational fear that extends to women across all corners of life and affluence.
Almost half of all women who responded say they "often" or "sometimes" fear losing all their money and becoming homeless.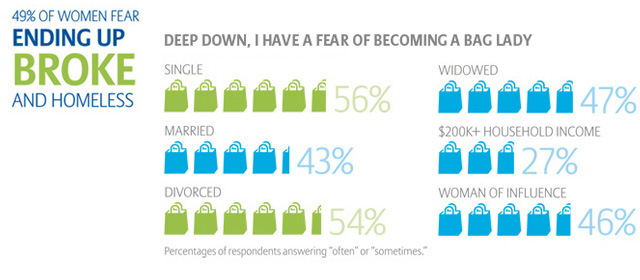 And this is not just found in lower income levels. A third of the highest-income earners ($200,000+) say they worry about becoming a bag lady. Even 46% of Women of InfluenceSM, who generally are less worried about their retirement savings, can't shake this fear.
In fact, after the fear of losing a spouse, the thought of running out of money in retirement is what 57% of women say keeps them up at night.
---
INSIGHT 6: Women are being underserved by the financial industry