INSIGHT 3: The modern family has put more demands on women
Today, the majority of households surveyed responded having at least one nontraditional element (i.e., single mother, same-sex couple, parent or adult children in the home), creating new demands and new roles for women in today's modern family.
Among those women currently married, 33% have already been through a divorce. But even more divorced women in our survey - 42% - have never remarried or partnered since. There are actually fewer women today who are married than the combined number of women who are single or divorced.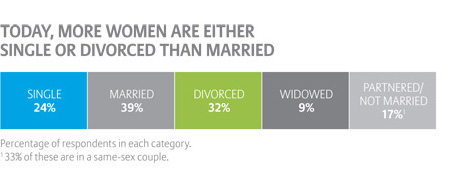 No matter what their family situation, women feel that the demands of children and families leave them too busy to address financial planning strategies.
Almost a third of women who have chosen to live with a partner without being married are in a same-sex relationship. Among women in same-sex couples, 22% have children under 18 living at home. Overwhelmingly, 80% of these same-sex couples say that their nontraditional family structure creates a whole new level of need for financial awareness.
---
INSIGHT 4: Women are hungry for knowledge about retirement planning