Oppenheimerfunds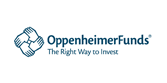 OppenheimerFunds is an investment adviser and is the successor to an investment adviser registered under the Investment Advisers Act of 1940 in 1960.
OppenheimerFunds' beginnings can be traced back to the late 1950s and the brokerage firm Oppenheimer & Co. (OpCo). Near the end of that decade, OpCo entered the mutual fund business, first offering the Oppenheimer Fund to the public on May 15, 1959. Shortly after, OpCo created a subsidiary, Oppenheimer Management Corporation, to serve as the investment advisor to the Oppenheimer Fund. In 1996, Oppenheimer Management Corporation was renamed OppenheimerFunds, Inc. Today, the company, which is owned by MassMutual Life Insurance Company and OppenheimerFunds senior management, has become one of the most widely recognized and respected investment management firms in the United States.
OppenheimerFunds is not affiliated with Oppenheimer & Co, Inc. or Oppenheimer Capital.
OppenheimerFunds, Inc.
Two World Financial Center, 225 Liberty Street
New York, NY 10281
800.734.5222
www.oppenheimerfunds.com
Investment options
Guarantees are backed by the financial strength and claims-paying ability of the issuing company. Variable annuity guarantees do not apply to the performance of the variable subaccounts, which will fluctuate with market conditions.
• Not FDIC insured • May lose value • No bank or credit union guarantee • Not a deposit • Not insured by any federal government agency or NCUA/NCUSIF
Products are issued by Allianz Life Insurance Company of North America, 5701 Golden Hills Drive, Minneapolis, MN 55416-1297. Variable products are distributed by its affiliate, Allianz Life Financial Services, LLC, member FINRA, 5701 Golden Hills Drive, Minneapolis, MN 55416-1297.
Product and feature availability may vary by state and broker/dealer.