Our conservative investment approach focuses on long-term results.
We seek steady, reliable performance based on:
Diversification across high-quality, fixed income asset types
High credit rating requirements
Efficient asset-liability matching and strong risk modeling
A high level of liquidity
99% of our fixed income securities are investment grade – managed to a credit quality of AA, or Very Strong, according to Standard's & Poor's.
Investment portfolio mix†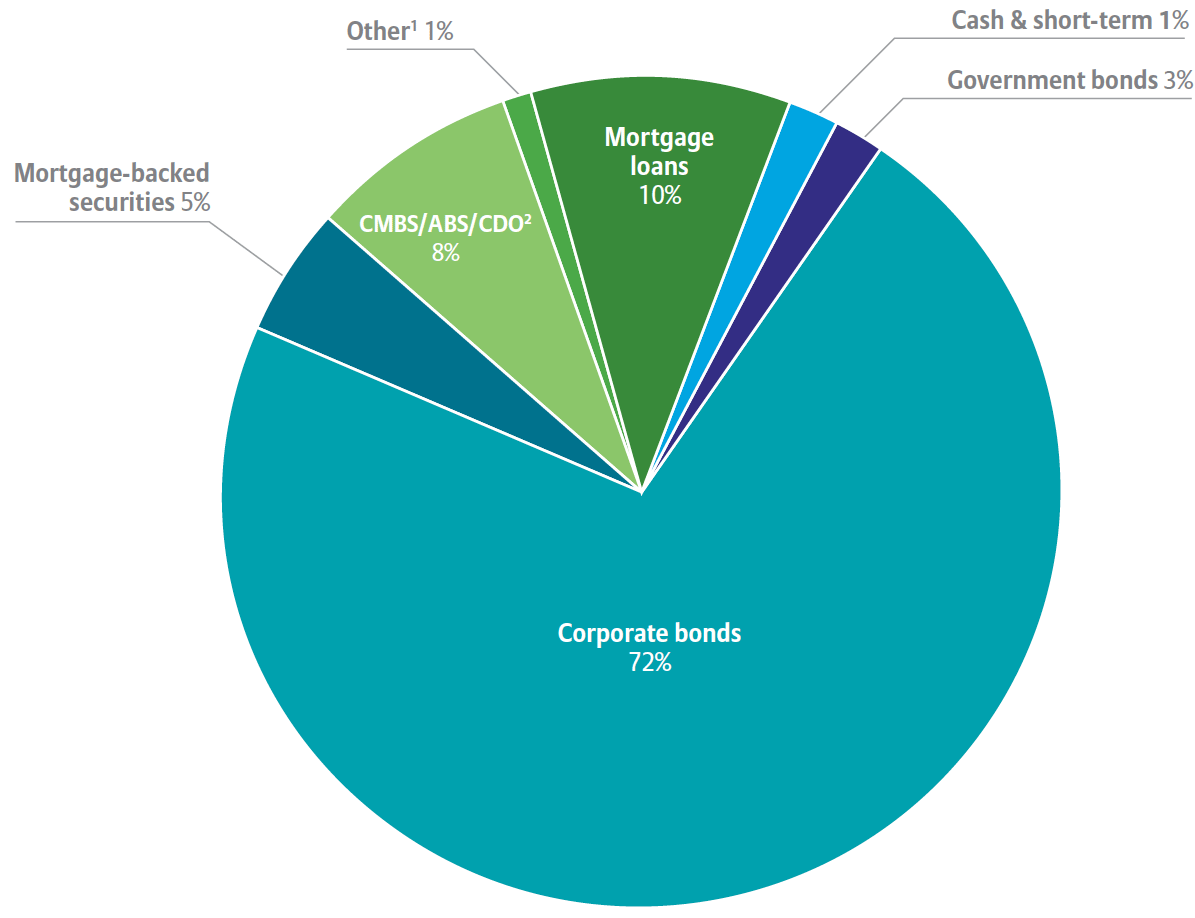 Our in-house, dynamic hedging lets us manage risk in real time.
We've been hedging our products in-house since 1996. Hedging is a way of using strategic investments to reduce risk. Most insurance companies hedge to some degree, but few have the power of in-house hedging. The strength of our in-house hedging lets us:
Control risk by rebalancing multiple times each day
Offer competitive caps and interest rates – because we save money by not outsourcing
Design innovative products and features
Purchase higher-grade bonds
Build a more stable, higher-quality investment portfolio that can back up the promises we make
---
† Investment portfolio information current as of December 31, 2016.
1 Other includes derivatives, equities, partnerships, and loans.
2 CMBS – Commercial mortgage-backed security
ABS – Asset-backed security
CDO – Collateralized debt obligation
3 MBS – Mortgage-backed securities
Guarantees are backed by the financial strength and claims-paying ability of the issuing company. Variable annuity guarantees do not apply to the performance of the variable subaccounts, which will fluctuate with market conditions.
Products are issued by Allianz Life Insurance Company of North America, 5701 Golden Hills Drive, Minneapolis, MN 55416-1297. In New York, products are issued by Allianz Life Insurance Company of New York, 28 Liberty Street, 38th Floor, New York, NY 10005-1422. Variable products are distributed by their affiliate, Allianz Life Financial Services, LLC, member FINRA, 5701 Golden Hills Drive, Minneapolis, MN 55416-1297.
In the state of New York, only Allianz Life Insurance Company of New York is authorized to offer annuities and life insurance. www.allianzlife.com/new-york
Product and feature availability may vary by state and broker/dealer.