We're part of Allianz SE – serving over 85 million customers worldwide.
Global reach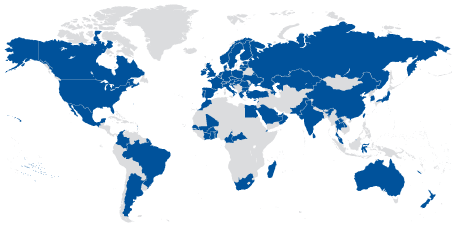 Allianz SE is the world's:
38th largest company1
5th largest asset manager2
Largest diversified insurance company, based on assets3
2nd largest diversified insurance company, based on market value3
Allianz in North America includes Allianz Global Investors and PIMCO, one of the world's leading fixed income managers.
---
1 Fortune Global 500, June 2018. Ranking based on revenue.
2 Allianz SE, P&I / Towers Watson World 500, October 2018. Ranked by total AUM.
3 Forbes Global 2000, The World's Biggest Public Companies, June 2018.
Guarantees are backed by the financial strength and claims-paying ability of the issuing company. Variable annuity guarantees do not apply to the performance of the variable subaccounts, which will fluctuate with market conditions.
Products are issued by Allianz Life Insurance Company of North America and variable products are distributed by its affiliate, Allianz Life Financial Services, LLC, member FINRA, 5701 Golden Hills Drive, Minneapolis, MN 55416-1297.
Product and feature availability may vary by state and broker/dealer.