Join us at the Allianz Contact Center

Why consider Allianz?
Because we're invested in your success. From the very first day you join our team, you will know your contributions are valued. And we'll give you the training, support, and advancement opportunities you need to succeed.
Our Contact Center is unique.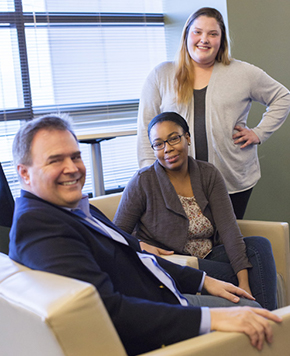 From our culture to our hours, we have many advantages other call centers can't match:
You can select the team that best fits your strengths.

Customer Care Center: Helping customers with empathy and support
Financial Professional Care Center: Helping the financial professionals who sell our products and supporting their business

We focus on helping our customers. There's no rushing them off the phone.
Shift options are business hours, Monday through Friday – no nights or weekends!
Strong career paths offer many opportunities to succeed (and the support to make sure you do).
Employees get a 7.5% company match on our 401(k) plan.
Enjoy a casual dress code year-round.
We're a great place to work.
Allianz is a leading provider of annuities and life insurance, but we're also a great place to work. Our employees get lots of extra perks – including free parking, an onsite child development center, a fully staffed fitness center, and a variety of meal options in both our full-service café and bistro.
We're proud of the phenomenal culture our employees have built, which has earned us consistent recognition:
For the 10th consecutive year, in 2019 we were named one of the Top 150 Workplaces in Minnesota by the Star Tribune
43rd on Fortune's 100 Best Companies to Work For
Best Place to Work for LGBTQ Equality
Working Mother Magazine's 100 Best Companies
Check out what our employees say about their roles, opportunities, and the work environment in the Allianz Contact Center.
What makes a good Customer Service Representative?
Job purpose/role
The Customer Service Representative provides prompt, professional, and accurate responses to telephone inquiries from registered representatives, contract owners, insurers, and distributors. This fast-paced position requires end-to-end product knowledge of Allianz fixed annuity products as well as the ability to thrive in a structured and active inbound call-center environment. This individual will be responsible for answering inquiries on product features, understanding product performance, and educating owners on the features of our products, as well as completing financial transactions related to their fixed annuity subaccounts. The Customer Service Representative will work with the Call Center management team to meet and exceed published benchmarks related to soft skills, accuracy, call handle time, and attendance. Securities licensing is generally required for those directly involved with activities related to variable products, broker/dealers, and registered representatives.*
Key responsibilities
Research and respond to service inquiries via inbound phone calls from sales, broker/dealers, top producers (i.e., President's Club and Chairman's Club members), as well as contract owners.
Build positive business relationships with all customers by listening, interpreting, and responding on a timely basis.
Accurately and efficiently process telephone fund transfer requests, initiate other policy changes, and forward requests for processing/confirmation.
Maintain performance level based on company specified goals and objectives. Primary performance is measured based on a combination of quality, timeliness, and availability to the customer.
Proactively identify problems and issues, and recommend creative solutions that produce results and favorable outcomes for the client, department, and company.
Assist with escalated customer issues that may include investigation and recovery recommendations.
Seek guidance and direction on nonroutine customer requests and escalates to others as appropriate.
Navigate systems and tools to demonstrate business knowledge to meet customers' needs.
May require deviation from standard screens and procedures with minimal usage/availability of phone scripts.
Participate in ongoing training programs or on-the-job development to further learn the business, products, and customers as appropriate.
Key required skills
Strong communication skills (verbal/interpersonal) – complex multitasker
Relationship-oriented and positive
Information seeker
Dependable and goal-oriented
Comfortable using calculations to determine product performance/pricing
Computer skills and ability to navigate multiple desktop applications while speaking to customers – one-year experience in customer service required
High school diploma required; college degree highly preferred
Ability to work shift-times between 7 a.m. - 6 p.m. (shift selection is based on employee performance)
*If securities licensing is required as outlined above, the deadline to obtain it is 90 days from the date variable-related activities commence.
Interested in joining the team?