Executive management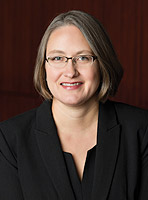 Jasmine Jirele
Chief Growth Officer
Allianz Life Insurance Company of North America
Now. As Chief Growth Officer, Jasmine Jirele is responsible for driving long–term growth through creating a holistic customer experience that helps people plan and attain their retirement goals. In her role, she has oversight of customer experience, product innovation, field marketing, communications, digital capabilities, and new market development.
Then. Prior to joining Allianz Life Insurance Company of North America (Allianz Life®) in 2018, Jirele led end-to-end customer experience strategy and delivery as executive vice president, head of customer excellence for Wells Fargo Consumer Banking/Consumer Auto. Before joining Wells Fargo, Jirele spent nine years at Allianz Life in various leadership roles in both Operations and Marketing. She has also held roles with 3M, NRG Energy, and Securian Financial during the course of her career.
And .... Jirele holds a BA in business and journalism from the University of St. Thomas (Minnesota) and an MBA from Hamline University (Minnesota). Jirele sits on the Board of Trustees at Washburn Center for Children, where she serves on the Strategy Committee.